CRISIS PACKS – FOOD AVAILABLE
Are you vulnerable, under shelter from the virus as advised by letter and self-isolating?  Not yet received a food pack from Welsh Government if eligible? Have you been furloughed, lost a job or on a zero hours contract or suffered any hardship due to the current crisis? Ponthir Community Council and your local councillor are here to help.  We have food packs which will assist you in these uncertain times and can be delivered free of charge.  If you wish to access this service, please contact the following,
Karen Kerslake email clerk@ponthircommunitycouncil.gov.uk or phone on 07789 640709
Torfaen Councillor Huw Bevan email huw.bevan@torfaen.gov.uk or phone on 07966 463476
ALL ENQUIRIES WILL BE IN THE STRICTEST CONFIDENCE AND PERSONAL INFORMATION WILL ONLY BE HELD FOR THE PURPOSE OF DETERMINING ELIGIBITY AND DELIVERY
CITIZENS ADVICE BUREAU
Getting Advice during Coronavirus outbreak
NEED MORE INFORMATION ON HOW TO AVOID INFECTION – DEBUNKING SOME MYTHS AND ADVICE ON WHEN TO USE  PROTECTIVE EQUIPMENT – WORLD HEALTH ORGANISATION
https://www.who.int/emergencies/diseases/novel-coronavirus-2019/advice-for-public
Are you alone, over 50? Do you need someone to speak to each day to help you through the crisis?
Phone Age Concern on 01495 769264
Staff will be more than happy to set up a daily phone call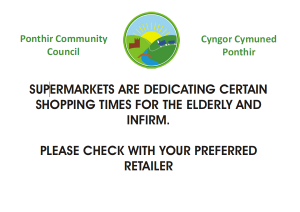 WANT TO VOLUNTEER DURING THE CRISIS TO HELP YOUR COMMUNITY
CONTACT – LLANFRECHFA AND PONTHIR COMMUNICATIONS TEAM ON FACEBOOK
Link to Red Cross – volunteers needed in all areas