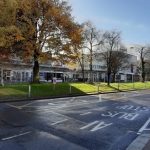 Cwmbran is the busiest sub-regional town centre in South East Wales and attracts around 15 million visitors a year. Cwmbran town centre provides a focal point for the surrounding valleys communities and acts as a 'strategic hub' for retail, employment, services, leisure and cultural activities.
New developments are taking place within Cwmbran which will boost the economy by improving education and employment opportunities and sustain the role of the town as a vibrant, economic centre for the wider area.
Cwmbran benefits from being easily accessible from the surrounding valleys communities by public transport.  The town centre also benefits from being a point of interchange for public transport connections and journeys further afield.
At present, the quality of public transport facilities within the town centre do not reflect the ongoing economic success of Cwmbran and the wider developments taking place within the town.  The provision of high quality, joined-up, attractive and modern public transport facilities within the town centre is crucial to enable Cwmbran to fulfil its role as the economic gateway to Torfaen.
On behalf of Torfaen County Borough Council, Capita is undertaking a study to identify the public transport improvements that are needed to support the future success of Cwmbran town centre.  This questionnaire aims to seek your views on current public transport facilities and the improvements needed within Cwmbran town centre.  Please answer the following questions based on pre-Covid travel behaviour.
Closing date for responses is Monday 15 March 2021.