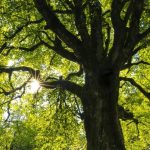 Torfaen CBC are in the process of preparing a tree strategy for the borough that sets out our approach to managing trees, including those that make up woodland and hedgerows. The draft strategy explains national and local policies, and explains how these translate into action to protect and manage trees for multiple benefits.
The aim of the strategy and action plan is to help ensure that Torfaen's street trees, woodlands and hedgerows are valued, managed and enhanced for the benefit of current and future generations.
The role of the strategy is to provide a council wide framework for tree management and protection obligations as well as promoting a pragmatic approach to the type of tree work that can reasonably be undertaken. It should also seek to quantify and value the tree and woodland resource in Torfaen, and in combination with Torfaen's emerging Green Infrastructure (GI) Strategy, act as a platform for council and community tree and woodland planting projects.
Councillor Mandy Owen, Executive Member for the Environment, said: "How we manage our trees, including those that form woodland and hedges in Torfaen now and in the future, is really important.
We are passionate about protecting and managing our trees as they provide a multitude of societal and environmental benefits, which is why we really want residents to get involved in our consultation."
Closing date for responses is Wednesday 24 March.